'Canine Culture UK advice on diet, behaviour & mental/physical stimulation for dogs'
Canine Culture in West London offers a warm welcome to all dog owners and all dog breeds! Our aim is to provide a first class dog training and behavioural service that uses a kind and non-invasive training method.
Contact: Crissie Chambers

Mobile number: 0794 952 3710

Available between 10:00 am and 08:00 pm

Email: canineculture@googlemail.com

Visit my Blog for latest news!
Going out to the Theatre or out for dinner or you may just have a hospital appointment
and you don't want to leave your dog 'home alone' then contact Crissie
REFERENCES given 07949 523 710


PRESS RELEASES
Westminster City Dog Control Orders
© 2016 Canineculture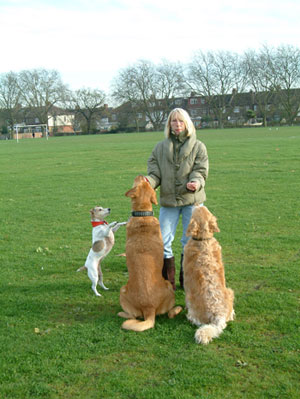 We run dog socialising classes for all breeds and ages, one to one behavioural sessions offering a set consultation fee to assess your dog's problem. There are many reasons why owners seek specialist behavioural help with their dogs. These can include; separation anxiety, nervous or fearful aggression towards other dogs, destructive behaviour or any other 'unsociable problems'.
If you are looking for professional help that is:
Fully insured (Pet Business Trainers Insurance) covers public care and liability

Accredited (graduate of dog psychology)
Extensive experience with great results
Based in Central London
Non evasive and friendly
Experienced rescue dog re-trainer